Alfa Laval methanol booster systems excel in over 4500 hours of operation
Alfa Laval FCM One Low-Flashpoint (LF) booster systems have been a clear success on methanol-fuelled tankers with ME-LGI engines. Now Alfa Laval is supporting MAN Diesel & Turbo as the engine series is further developed to work with LPG.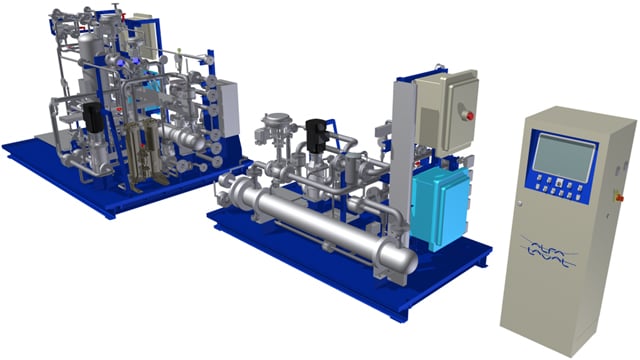 In late 2013, Alfa Laval was selected by MAN Diesel & Turbo to deliver Low-Flashpoint Supply Systems (LFSS) for the world's first methanol-fuelled tankers. Since 2012, the two companies had been collaborating broadly on fuel conditioning for MAN Diesel & Turbo's new two-stroke diesel engines with Liquefied Gas Injection (LGI) technology. But when the engine maker contracted to equip nine vessels with methanol-burning ME-LGI engines, methanol came quickly into focus.
"MAN Diesel & Turbo has worked closely with Alfa Laval in development projects like Exhaust Gas Recirculation, where Alfa Laval PureNOx technology cleans the circulation water," says Søren H. Jensen, Vice President and Head of R&D, Two-Stroke Business at MAN Diesel & Turbo. "That, together with deep expertise in fuel conditioning, made Alfa Laval the natural choice to deliver the Low-Flashpoint Supply Systems for methanol."
Proven in thousands of hours at sea
The finished booster technology, the Alfa Laval FCM One Low-Flashpoint (LF), was installed on tankers built at Minaminippon in Japan and Hyundai Mipo Dockyard in Korea. The vessels' three owners, MOL, Westfal-Larsen and Marinvest, have since logged over 4500 running hours with the FCM One LF in the past three years.
"The effectiveness and market-readiness of our ME-LGI engine technology has been clearly demonstrated by the fleet, says Kjeld Aabo, Customer Director at MAN Diesel & Turbo. "Alfa Laval's low-flashpoint booster technology has played a significant role in that success, and we look forward to further cooperation as the application develops."
LPG booster ready for testing
In fact, new booster developments are already underway. MAN Diesel & Turbo is currently modifying the ME-LGI engine series to use LPG as an alternative fuel, and once again Alfa Laval is preparing the booster system. After more than one year of development, the first Alfa Laval FCM One LPG will be delivered to the MAN Diesel & Turbo's Copenhagen test site in the coming weeks.
"Tests of the engine and booster are expected to be completed by the end of 2017," says Roberto Comelli, Business Manager, Fuel Conditioning Systems at Alfa Laval. "In the meantime, Alfa Laval is preparing to support MAN Diesel & Turbo when the first LPG-related orders come in. We are proud to be associated with LGI engine technology and to help bring more customers access to this low-emission alternative."