Producing complex protein-based drugs is an important and fast-growing sector for the biopharmaceutical industry. Manufacturing viral vaccines, monoclonal antibodies, glycoproteins, therapeutics and other drugs requires purpose-built systems for gentle but efficient fermentation, harvesting and purification. Successful production requires hygienic equipment that handles cells gently, eliminates the risk of contamination and maximizes yield.
On the pulse of biotechnology manufacturing
Biopharmaceutical companies face challenges including evolving regulations and demands to constantly innovate and maximize yields. Alfa Laval helps overcome these challenges with state-of-the art biotech process knowledge and equipment that ensures hygienic processing, low cost of ownership and minimal contamination risks. Easily adapted to pilot scale and scale-up to commercial production, our equipment ensures safe, continuous and cost-effective production and contributes to increased production yields.
Why choose Alfa Laval?
Complete range of process equipment for gentle treatment that easily scales up from pilot units to full-scale production plants
Hygienic and reliable equipment for cGMP-compliant production backed by engineering experience, application knowledge, customized installation, full validation support and comprehensive documentation
Fully contained, easy to Clean-in-Place and easy-to-sterilize equipment for hygienic cell culture processes
Brochure: Equipped for success
Brochure: A healthy injection for your business
360° Service Portfolio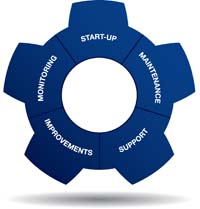 Alfa Laval hygienic equipment is backed by the Alfa Laval 360° Service Portfolio to extend performance.