A common cause at a petrochemical company in Saudi Arabia
When the customer began to experience problems with their semi-welded plate heat exchangers, Alfa Laval feared that they'd lose a valued customer. Instead, the two companies decided to work together to find a solution, and now they've never been closer.
DATUMS
2023-11-28
"Initially we were very concerned and I imagine the customer were reconsidering our relationship," recalls Juergen Kohler, Alfa Laval Manager for Service in Saudi Arabia. "However, once we responded and they saw the lengths we were willing to go to fix it, they decided they wanted to work with us to find a solution."
Customer's voice
From the very start we had a good understanding and good cooperation on all levels. After many meetings and investigations by both companies, we actually discovered that there wasn't just one root cause, but many causes.
Juergen Kohler, Manager for Service, Alfa Laval, Saudi Arabia
Products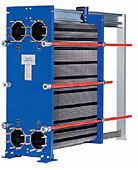 The Alfa Laval PHEs use heat transfer plates fitted with gaskets that seal off each channel from the next, and direct the fluids into alternate channels.They are used throughout industry as equipment for efficient heating, cooling, heat recovery, condensation and evaporation.
The customer
The petrochemical company is based in Jubail, Saudi Arabia and produces ethylene, ethylene glycol and linear alfa olefins.
The solution
The customer purchased Alfa Laval's MA30W model of semiwelded plate heat exchanger.
After extensive investigations into possible faults, Alfa Laval upgraded the field gasket material, and made modifications to the design and manufacturing of the ring gaskets.