Dzinēji un transports
Alfa Laval's advanced heat transfer, filtration and separation products and solutions ensure engines perform efficiently, with the lowest life-cycle costs and minimal impact on the environment. Alfa Laval's ability to integrate these technologies into your engine, either, individually or in combination with each other, results in high levels of compactness and low weight.
Saistīti pielietojumi
Saistīti produkti
Related services
Visas
Apkārtējās vides aizsardzības risinājumi
Automātiskie atgrieztās skalošanas filtri
Centrbēdzes seperatori
Dzeramā ūdens risinājumi
Gaisa dzesētāji
Kuģu izplūdes gāzu risinājumi
Plākšņu siltummaiņi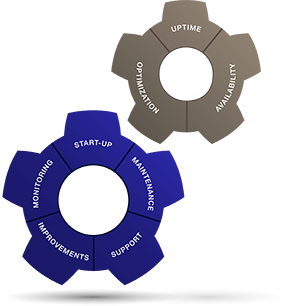 Mūsu globālajā servisa tīklā ir pieredzējuši speciālisti, kas ir zinoši par jūsu nozari. Mēs esam šeit, lai atbalstītu jūs ar zināšanām un detaļām, kur un kad vien jums nepieciešams.
Alfa Laval 360° Servisa Portfolio aptver visas jūsu vajadzības visā iekārtu dzīves ciklā — no palaišanas, uzturēšanas, atbalsta un uzlabojumiem līdz uzraudzīčanas pakalpojumiem - maksimālai darbspējai, pieejamībai un optimizācijai.
Samazinot kopējās izmaksas, mēs jums palīdzam palikt priekšā konkurentiem.
Uzziniet vairāk par mūsu servisa piedāvājumu
---
We supply these technologies to engine manufacturers working in many markets around the world, to help provide reliable, high performing diesel and gas engines to their mining, railway, marine, power generation and industrial customers.
We offer a broader array of products and application expertise for cooling, filtration and crankcase gas cleaning of diesel and gas engines.
Our products increase your engine's performance by:
Extending engine lifetime
Extending oil lifetime
Eliminating filter cartridge disposal
Improving cooling efficiency
Reducing unnecessary engine loading
Reducing crankcase emissions
Pieprasīt piedāvājumu par Dzinēji un transports